Don't miss your shot to learn from the best!
This teen program will give you a once-in-a-lifetime chance to learn about photography from world-renowned photographer Annie Leibovitz at the opening of her exhibition Annie Leibovitz at Work and be mentored by experts in the industry while creating a masterpiece of your own to be displayed in the Studio at Crystal Bridges.
Whether you're just dipping your toes into the world of photography or preparing an art portfolio, this program is designed to help teens (aged 13-19) of all backgrounds level up their portrait photography skills. You'll learn everything from practical photo-taking techniques to how to exhibit your work, and your final portrait will be showcased in the Studio, online, and in print!
We invite you to register for this unforgettable mentorship experience and the opportunity to learn how to capture the character of a person in an authentic and unique way.
Free, registration is required.
All experience levels are welcome, and no special equipment is required.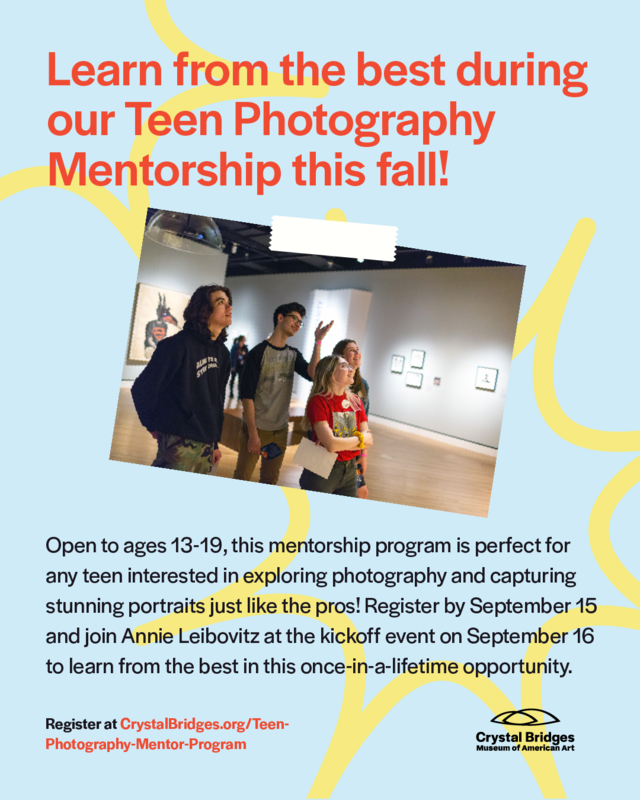 Important Dates
September 16: Kick off event with Annie Leibovitz*

September 30: First meeting with mentor

October 14: Touch base with mentor

November 3: Photograph and artist statement submission deadline

November 18-26: Showcase in the Studio

January: Final exhibit reception

*Note: Those registered for the program are required to attend the kick off event with Annie Leibovitz from 9 to 10 a.m. on Saturday, September 16 at Crystal Bridges.
Learn more about the program HERE.
Register for the program HERE.