By Mary Jordan
Springdale Public Schools
Coach Kimberly Wilson Jenkins of Springdale Public Schools was inducted into the 2023 class of the University of Arkansas Sports Hall of Honor, a recognition that was celebrated Friday and Saturday in a series of events at the Walton Arts Center and Donald W. Reynolds Razorback Stadium in Fayetteville.
"The game of basketball is my life-long passion, and being inducted into the UofA Sports Hall of Honor is a dream realized," said Jenkins, the head girls basketball coach and assistant athletics director for Har-Ber High School. "The sacrifices and commitment made by my family and the people who challenged me and held me accountable all helped me in achieving this humbling honor."
Inductees are elected into the UA Sports Hall of Honor based on a vote by former Razorback letter winners in conjunction with the A Club, according to a University of Arkansas press release.
"The University of Arkansas Sports Hall of Honor embodies the rich and storied history of our program," said Hunter Yurachek, University of Arkansas vice chancellor and athletics director. "This year's talented class features outstanding Razorbacks from a cross section of our sport programs, including national champions, Olympians and trailblazing individuals who helped lay the foundation for our continued success."
Jenkins competed as a women's basketball shooting guard and a three-year team captain from 1993-1997 as a UofA student-athlete.
The university release noted the coach was a bucket-getter for Arkansas and the leading scorer for three seasons as a member of Gary Blair's Hogs, averaging 14.4 points over her college career. Jenkins still ranks fifth on Arkansas' all-time scoring list, having poured in 1,733 points over 120 games played in Fayetteville.
Jenkins, 48, was selected as an All-SEC performer in 1995, 1996 and 1997 for her efforts and was also named to the SEC All-Freshman team in 1994, according to the release. She was likewise one of the most well-rounded players in Arkansas women's basketball history and is one of three players in the history of the program to score at least 1,000 points, dish at least 300 assists and collect 400 rebounds.
Jenkins was remarkably efficient over her four-year career, averaging over 13 points per game every season she played on the Hill, according to the release. A member of the SEC Scholar-Athlete Honor roll in 1997, Jenkins was invited to the inaugural WNBA pre-draft combine and was selected to compete on the Athletes in Action team in 1995. She was honored as an SEC Great at the SEC Women's Basketball Tournament in 1997.
"As an Arkansas native, it was a dream come true to play for the University of Arkansas Lady Razorbacks. I had great coaches, teammates, support staff and fans that influenced my experience and made it unforgettable," Jenkins said. "Being a Division 1/SEC student-athlete was very difficult with all of the expectations, travel and extra time commitment, but we were held to high standards and made to be accountable on and off the court, which taught me greatlife lessons."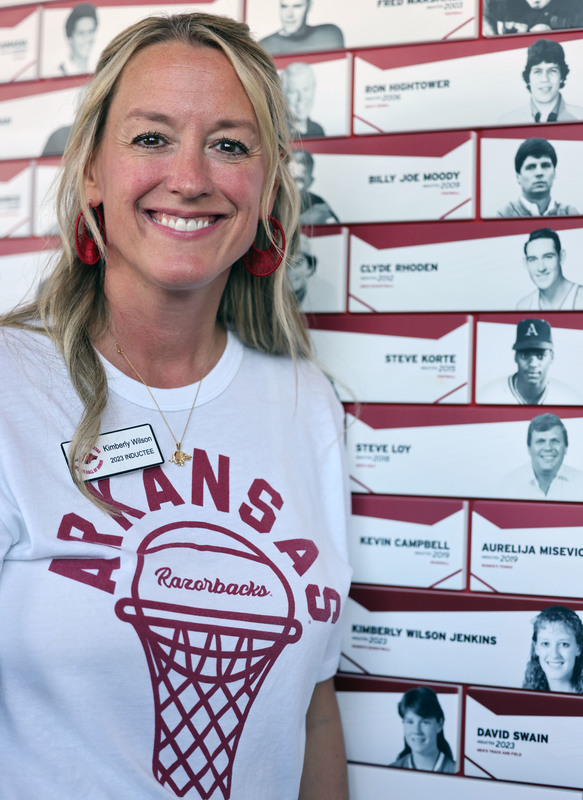 Jenkins is in her sixth year as a Springdale Public Schools and Har-Ber High School staff member.
Keith Fimple, Springdale Public Schools athletics director, congratulated Jenkins on her induction, noting the coach has an unwavering dedication to women's basketball, her athletes and the values she represents.
"You have earned your place among the legends of the game, and we couldn't be prouder to have you inducted into the University of Arkansas Razorback Sports Hall of Honor," Fimple said.
Jenkins led the Lady Wildcats to finish with a 22-5 overall record in 2021 and to become the 6A West undefeated conference champions that same year, the best in Har-Ber girls basketball history. She coached the team to a repeated conference championship in 2022, and the team has consistently had a GPA of 3.6 or better and two players with more than 1,000 points since Jenkins' arrival at the high school.
Paul Griep, Har-Ber High School principal, said Jenkins' induction into the Hall of Honor is well-deserved, adding she had an incredible playing career as a Lady Razorback who led players on and off the court.
"Coach Jenkins leads with the same passion and knowledge of the game as the head coach of the Lady Wildcats," Griep said. "Jenkins has inspired our student-athletes to work as #OneTeam and to display excellence in the classroom and on the basketball court. We are proud of Coach Jenkins and this incredible accomplishment."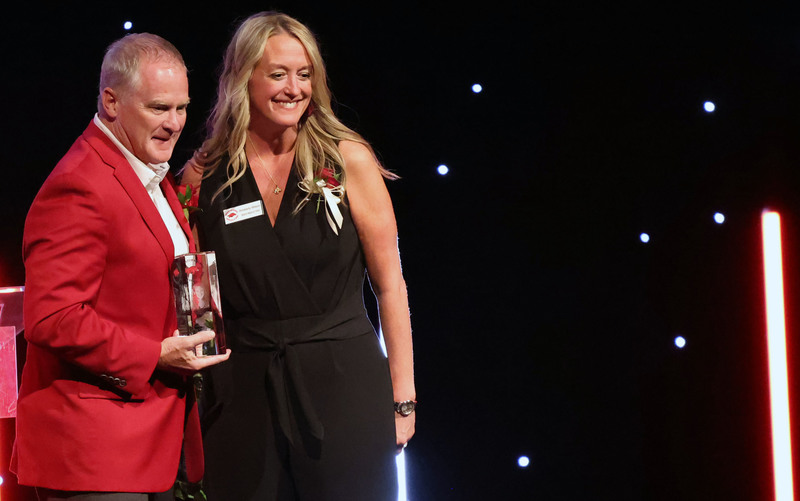 Jenkins is one of nine former Razorback athletes to be inducted as a member of the 2023 class of the University of Arkansas Sports Hall of Honor, according to a university press release.

The additional inductees were Marc Brumble (baseball), Taylor Ellis-Watson (women's track and field), Lenzie Howell (men's basketball), Oskar Johansson (men's tennis), Felix Jones (football), Honey Marsh (soccer), Coach Houston Nutt (football) and David Swain (men's track and field).
The athletes were formally inducted and celebrated at a ceremony Friday at the Walton Arts Center in Fayetteville and were honored on the field Friday at he Arkansas-Kent State football game at Donald W. Reynolds Razorback Stadium.
Jenkins was born in Eureka Springs and now lives in Springdale with her husband of 26 years, Quincy Jenkins. The couple have two sons who are Har-Ber High School graduates. Lawson Jenkins, 22, is currently playing basketball at Missouri Southern State University, and Connor Jenkins, 18, attends the University of Arkansas.
Jenkins said she felt blessed to represent the family, friends, coaches, teammates, and the city and state communities who've supported her over the years.
The coach thanked her parents, L.B. and Paula Wilson, brother, Brad Wilson, college coaches, the John Sutherland staff who recruited her, her UofA coaches, and the Gary Blair staff, including Tom Collen and Amber Shirey. She likewise expressed her gratitude for all her former classmates and teammates, to include Carrie Parker Jefferson, LaToya Marshall and Taqueta Roberson Braxton, who remain the coach's close friends to this day.
"And a big thank you to the University of Arkansas, AD Hunter Yurachek, the A Club and former athletes for honoring me," Jenkins said.
The coach encouraged youth to dream big and to go for what they're passionate about.
"Always have a growth mindset, believe in yourself, keep yourself motivated, be accountable and surround yourself with people who lift you up," Jenkins said. "You can do great things. Be willing to sacrifice, work hard and earn what you accomplish."