Five Springdale Public Schools students have signed letters of intent to play college athletics. Please join us as we celebrate the amazing achievements of these student athletes. --
---
Caleb Horsey
Springdale High School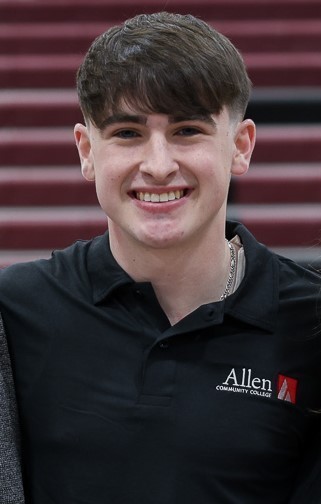 Springdale High School's Caleb Horsey, 18, has signed to play baseball with Allen Community College in Iola, Kan.
Born and raised in Springdale, Horsey played centerfield with the Bulldogs and will be playing outfield and catcher for Allen.
"I've played ball since I was about five years old," Horsey said, adding he feels very fortunate to be able to play at the college level.
Horsey batted around 300 last year and said he hopes to make an even better showing at the plate this year.
"I hope to go for more," he said. "We're gonna surprise people this year for baseball."
His father, Stephen Horsey, said his son has worked hard and has made a lot of sacrifices to come so far in his baseball career.
"I think he's got the athletic ability and the discipline and the mental aspect to go as far as he wants to go," Stephen Horsey said. "It's hitting almost every day, it's stretching, working out, a lot of heavy lifting and just really putting the mental aspects along with the physical aspects of the game."
Horsey will attend Allen on an athletic scholarship and will major in industrial engineering, he said. He hopes to perhaps run his own business someday.
---
Kyle Langford
Springdale High School
Warren "Kyle" Langford, 18, has signed a Letter of Intent to play baseball at Baptist Bible College in Springfield, Mo.
Langford was born in Tennessee and moved to Springdale from Branson, Mo., four years ago.
He played infield and pitcher for the Bulldogs and looks forward to playing middle infielder and pitcher for the Patriots. Langford has been playing baseball since he was 3.
"Ever since he was a little guy, he carried a ball and a bat with him everywhere he went," said Jennifer Steele, Langford's mother.
Langford said he's looking forward to playing ball with Baptist Bible College.
"Baseball is my favorite thing to do," Langford said. "I've always dreamed of playing at the next level, and I'm just super excited to get to work."
Last season, Langford had a fielding percentage of 93%, 121 chances and 93 putouts, an on-base percentage of 480 and a batting average just above 250.
He plans to major in business and sports management in college.
"I'm looking to do go down a coaching career path with that, stay around the game and help out anywhere I'm needed later on down the road," Langford said.
---
Peyton McKee
Har-Ber High School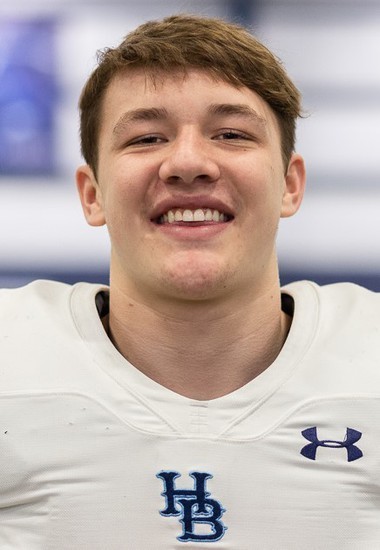 Har-Ber High School's Peyton McKee has committed to play football with Missouri Southern State University in Joplin, Mo.
McKee, 17, plays receiver for the Wildcats and will be a defensive back safety for the Lions.
"I'm excited to get the opportunity," he said of playing football at the next level. "I'm just blessed, honestly."
McKee finished the 2021 season with 90 receptions for 1,125 yards and seven touchdowns, said Christopher Wood, Har-Ber High's head football coach.
The senior has the work ethic to go far in his college football career, he said.
"Peyton was a physical and tough player for us," Wood said. "He would put in all the time needed to be the best he could be for our program and at receiver. Those characteristics will allow him to succeed at the next level."
McKee will be attending Missouri Southern on an athletic scholarship and said he plans to major in education.
"I want to become a coach," McKee said, expressing a desire to stay associated with the sport long term.
---
Landon Phipps
Springdale High School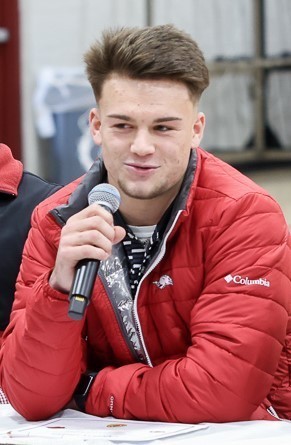 Landon Phipps, 18, of Springdale High School has signed to play football for the University of Arkansas, Fayetteville.
The future Razorback was born and raised in Springdale and has been playing football since kindergarten. Phipps played as quarterback and defensive back for the Bulldogs and will take the field as a defensive back for UofA.
"It's a real blessing," Phipps said. "It's been a dream to always play for Arkansas, so being able to get to live my dreams and fulfill them is pretty amazing."
Phipps was second team All-Conference this year, said Brett Hobbs, Springdale High's head football coach. He grossed 976 yards and 14 touchdowns this year. He also threw for 1,216 yards and six touchdowns and had 80 yards receiving and one touchdown.
"I'm just extremely proud of the kid that he's grown up to be," said Amber Johnson, Phipps mother. "He doesn't even realize that people look up to him, and I feel like that's going to take him a long way."
Phipps will major in business in college and hopes to one day take on running his father's business, Phipps Heating and Air.
"I'd like to maybe take it over, make it my own," he said.
---
Davon Sparks
Springdale High School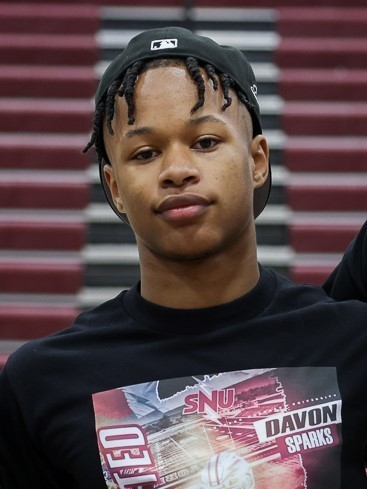 Davon Sparks, 18, of Springdale High School has committed to play football for Southern Nazarene University in Bethany, Okla.
"This always has been my dream to play college ball, and it's crazy that this is actually happening, because this is what I've worked for my whole life," Sparks said.
Sparks played running back and receiver for Springdale High and will be playing wide receiver for the Crimson Storm.
This year, Sparks rushed 733 yards for six touchdowns, Hobbs said. He had 254 yards receiving and two touchdowns and was second team All-Conference this year.
Sparks was born in New Orleans and moved to Springdale when he was in the fifth grade. He's been playing football since he was 12 years old.
"He's just an overall hard worker," said Johnny Borkins, Sparks' father. "I'm so proud. It's a blessing to have another one of my boys go to school."
Sparks brother, Andre Sparks, attended Springdale High as well and signed with Arkansas Tech University in 2021.
Sparks will be attending Southern Nazarene on academic and athletic scholarships and will be majoring in agriculture with an emphasis on welding