Betsy Kryeziu, Har-Ber High School art teacher, has been selected as a presenter at the National Art Education Association Convention in April in San Antonio, Texas.
The only other Springdale Schools art educator to present at this level was the late Patti Brigman, Walker Elementary School.
"She was my great friend and someone I think of everyday," Kryeziu said. "She became my mentor, of sorts, with the best words of advice and encouragement. I hope I'm making her proud."
---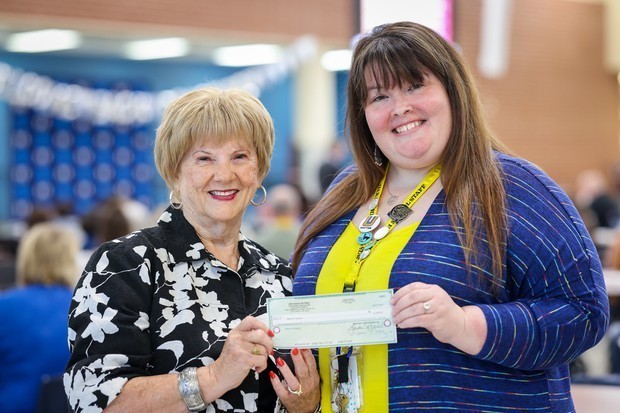 (photo caption) Dr. Clarice Cox, District 7 coordinator, presents a $2,000 check in August from the Arkansas Retired Teachers Association to Betsy Kryeziu, Har-Ber High School art teacher. Kryeziu is working hard toward a master's in art education through the University of Arkansas and will apply the funds toward technology supplies.

---
Kryeziu's presentation was chosen from more than 1,200 proposals from across America. Her presentation will focus on the 1,000 Cranes project she did with her students at the beginning of the COVID-19 pandemic.

"The project was about promoting healing during uncertain times based on Sadako Sasaki's story of 1,000 cranes," Kryeziu said. "While we are still in uncertain times, we are looking at life differently through the lens of gratefulness."
The National Art Education Association Convention is attended annually by more than 4,500 art educators and prominent artists, writers and government officials from around the world.
The convention is the place to be for all art educators, Kryeziu said.
"Having the support of my district definitely makes me feel like the sky isn't just the limit, but beyond unknown is where I set my goals," she said. "Anything is possible."
National Art Education Association