Generations of Educators
Kinsey Dickey's Springdale family story is generational.
Dickey, an English teacher at Har-Ber High School, said she's a third-generation teacher with Springdale Public Schools.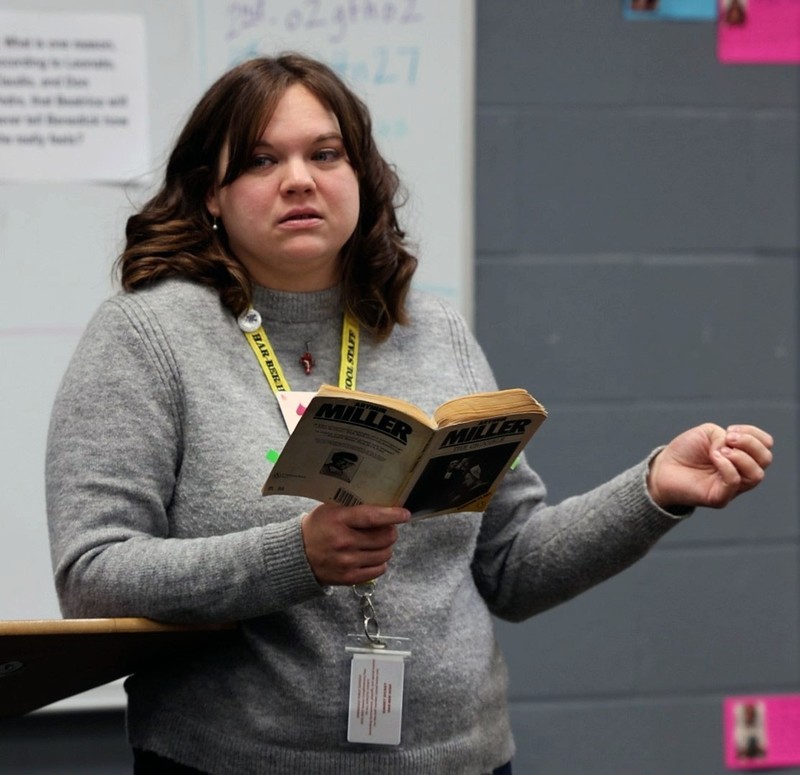 Kinsey Dickey Today
She's taught for the school district for about nine years, Dickey said, while her mother, Chula Rogers, taught at Elmdale Elementary School for 19 years. Her grandmother, Colleen Taylor, was a biology, health education and driver's education teacher from 1975-1994 at Springdale High School as well.
"I think it's a really cool story," Dickey said "I love telling people that."
There was a time when there were four generations of the family at Elmdale Elementary School, she said.
Rogers was teaching kindergarten, while Taylor volunteered in Rogers' classroom, Dickey said. Dickey was working with the school's Family Literacy Program at the time, while her daughter, Ruby Dickey, was in Pre-K at Elmdale. Ruby, 11, now attends Hellstern Middle School.
"It was so cool for us to all be in the same building," Dickey said. "I would come and pick up my daughter, and my mom's there, my grandma's there."

Colleen Taylor in 1990
Elmdale is special to Rogers due to the family's shared connections through the school, she said.
"Over the years, we just became closer," Rogers said of the relationship between the school's staff and her family. "It was a great blessing."
Taylor passed away in 2018 at 88, Rogers said, but left an impact on the generations of family educators who followed.
"She loved her students. She cared about them," Rogers said of her mother. "She wanted very much for them to learn and be successful in school and then in life."

Chula Rogers Today
The family business
Rogers, 66, taught for 30 years before she retired from Springdale Schools. She said she initially majored in theater in college and never intended to become an educator like her mother.
"At the end of my freshman year, I just really believed the Lord wanted me to change my major," Rogers said. "I counseled with one of our pastors. That day, I changed to education, and I never looked back."


Taylor teaching health at Springdale High School
Growing up around teachers gave Dickey a natural love of school and teaching, she said. She explored other jobs, but felt drawn to the classroom.
"This is my career. I love teaching," Dickey said. "It feels like it's in my blood at this point."
Dickey and Rogers both said they had a lot to live up to due to the example Taylor set for them as an educator. Dickey said her grandmother had high standards for herself, as well as her students.
"The bell rings and all of her students were in their desks with a pencil ready to go, and I can only dream about being that orderly and organized," Dickey said of Taylor's teaching.
Dickey, 42, even had an opportunity to be in her grandmother's driver's education class when she was 13, she said.
"She gave me a D in that class, although she would say that I earned that D," Dickey said with a laugh. "Just because I was her granddaughter, she wasn't going to bump my grade up."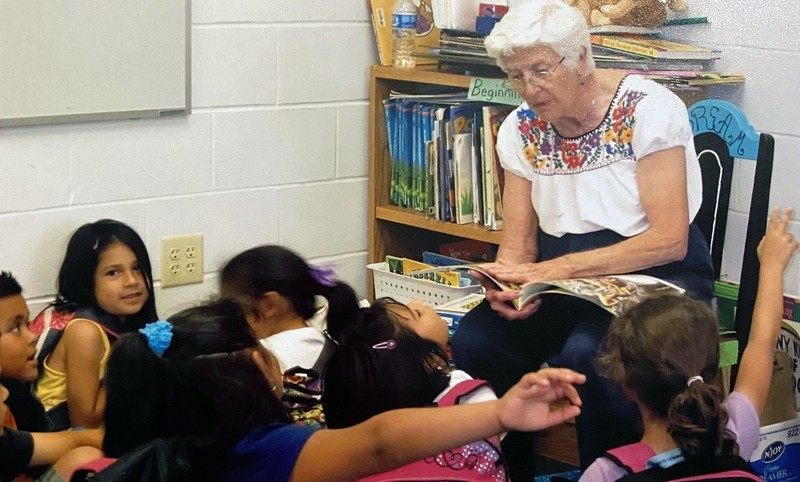 Taylor volunteering at Elmdale Elementary School
Taylor wanted her granddaughter to take the class with her, because it would be her last year teaching driver's education, Dickey said. Dickey grew up in Fayetteville, but now calls Springdale home.
Like her grandmother, Dickey said she speaks often with her students about having integrity and growing as readers.
"I hope that they will come away with a love of reading," she said.
Rogers described her teaching style as a combination of her mother's and daughter's.
"I'm a happy person, and so I tried to set a happy environment," Rogers said. "I really cared about their character," she added. "It wasn't just what they could learn in my class academically, I really wanted them to be honest."

Taylor was Arkansas Teacher of the Year for Health Education in 1987 and Teacher of the Year for Springdale Schools in 1990.
Taylor's commitment to teaching was so strong, she continued long after she retired, Rogers said. Taylor volunteered regularly in Rogers' kindergarten and first-grade classrooms at Elmdale for 11 years following retirement.
Rain or shine, her mother would routinely be there to help with students' reading notebooks well into her '80s, Rogers said.
"She just loved education. She loved teaching," Rogers said of her mother. "She wanted to help me be successful. She wanted my kids to read at night."
A love for teaching
Dickey is unsure if Ruby will decide to become a fourth-generation teacher.
"She has always loved her teachers, and she really does love school," Dickey said, adding Ruby's future is her own to build.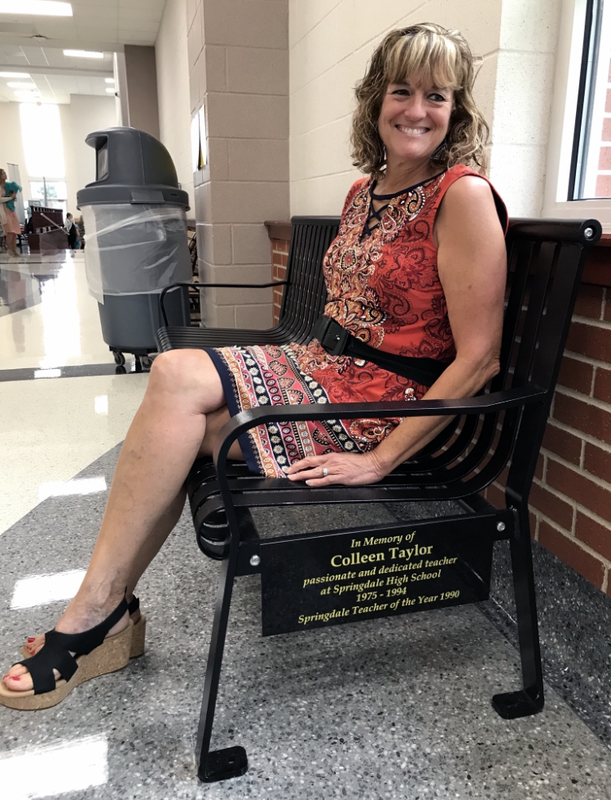 Rogers on the SHS bench dedicated to Taylor
Dickey admits teaching isn't for everyone.
"Sometimes it's an exhausting job," she said.
Yet children will always have a need for a sound education and capable teachers, she said.
"I really think it's a calling," Rogers said of teaching. "It is not for the faint of heart. It's a lot of work."

The Elmdale bench dedicated in Taylor's memory
Caring about youth has to be the bottom line for teachers, Rogers said, which Taylor exemplified daily in the classroom.
Taylor's 39-year-long passion for education lives on through her daughter and granddaughter, Rogers said. Her love for teaching and her students has also been memorialized by a bench in the Springdale High School Rotunda and another on the Elmdale Elementary School playground.
"Springdale values its teachers," Dickey said.

Ruby Dickey on the Elmdale bench dedicated to her grandmother
Watch the Story